Este es el proceso de mi dollmaking de anime Inuyasha.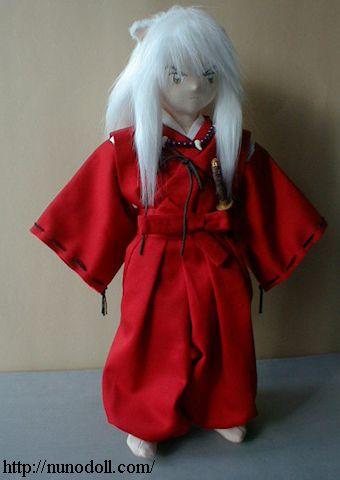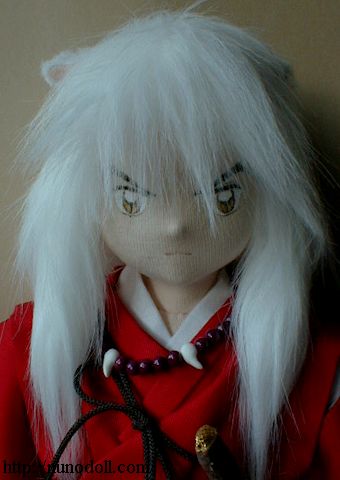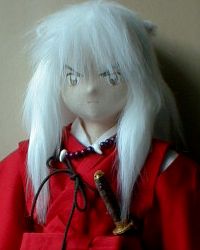 Cabeza
Esta reducción es la cabeza de mi
niña Big muñeca
Consulte a su cabeza y la cara.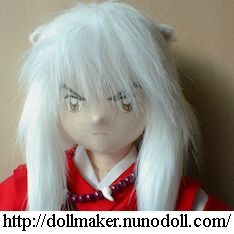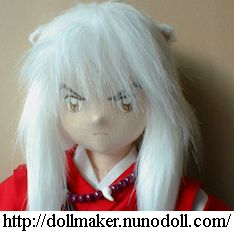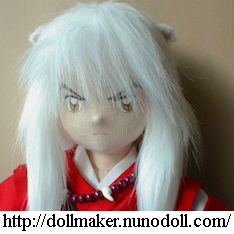 Cara
Envolver la cabeza con 2 piezas de tela de piel.
Paint features with acrylic. Pintura acrílica con características.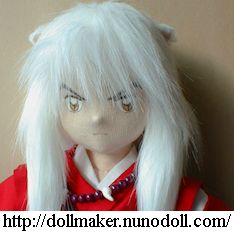 Cuerpo
Tronco y extremidades son el algodón jersey rayado con tela delgada.
Consulte a las
grandes las piernas de niña
que coser los dedos de los pies.
Cosas con poliéster y fiberfill conjunta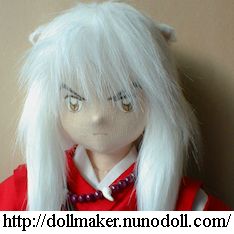 Las orejas y el cabello
Cosa hasta triángulo 2 piezas de tela blanca --- peludos corto de tela y fieltro beige.
Turn inside out. A su vez adentro hacia fuera. This is an ear. Se trata de una oreja.
Stitch ears to the crown. Stitch oídos a la corona.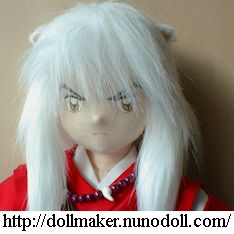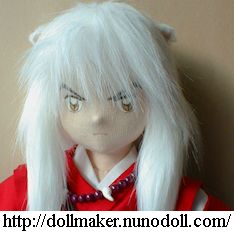 Cortar largo peludos de tela.
Corona Side - back - side. Side - vuelta -.
Make slits in the sides of the back hair for the ears. Haga aberturas en los lados de la espalda el cabello para los oídos.
Roll the side lock and whip it with a thin thread. Roll al lado de bloqueo y látigo con un delgado hilo.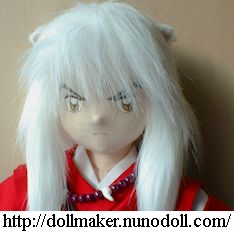 Pegamento el pelo en la cabeza.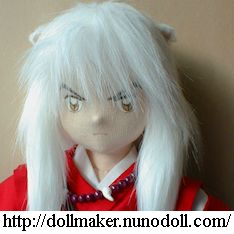 Estas prendas están ordenadas por mi imaginación
Kimono
Consulte a
Hacer Kimono
Inu Yasha del kimono es más fácil que el furisode de que kimono muñeca.
Puede cortar la longitud del kimono y la anchura de las mangas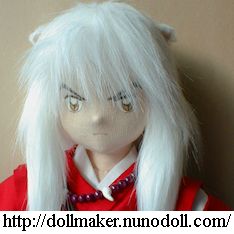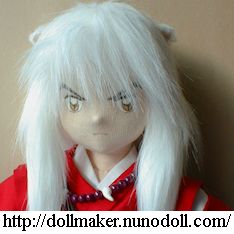 Chaqueta
This is a short kimono. Se trata de un corto kimono.
* The sleeves are bigger than kimono's. Las mangas son más grandes que el kimono.
* Both sides are unseamed. Ambas partes están unseamed.
* A cuff has 5cm margin. Un brazalete tiene margen de 5 cm.
* Set a stand-up collar. Establecer un stand-up collar.
* Stitch 2 strings to the collar. Stitch 2 cuerdas para el cuello.
One is at the back of the neck, another the end of the left. Uno de ellos es en la parte posterior del cuello, otro al final de la izquierda.
* The sleeves are stitched to the bodice only at the back. Las mangas se cosen a sólo el cuerpo en la parte trasera.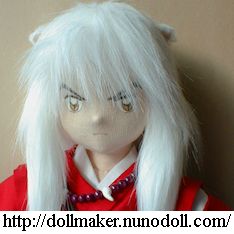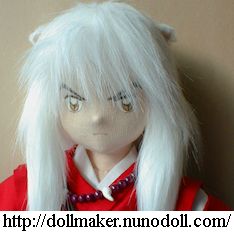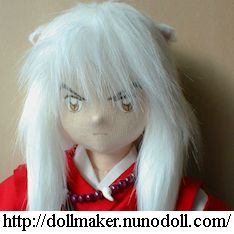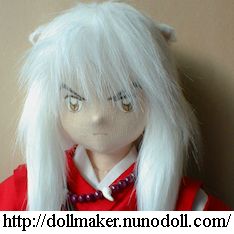 Pantalones
Hakama es amplia pantalones.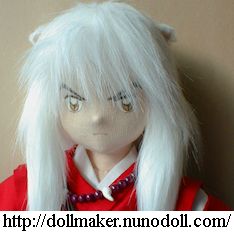 cosa el lugar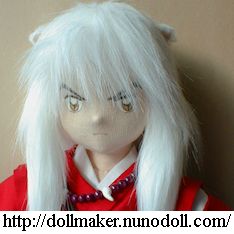 Cose los lados. But upper slits are unseamed. Pero son superiores rendijas unseamed.
Fold the slit inside. Dobla el interior de la ranura. Fold the front slit outside. Dobla la parte delantera de hendidura exterior. Then whip the line. A continuación, látigo de la línea.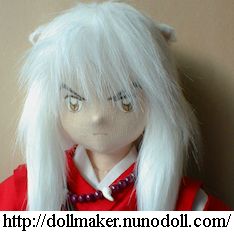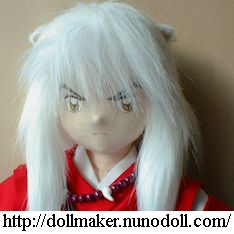 Tome tucks. The front has 4 tucks and the rear 2 tucks. La parte frontal tiene 4 tucks y la parte trasera 2 tucks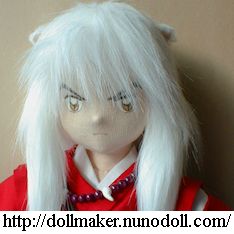 Stitch la waistbands.
Fold the hem and stitch. Doble el dobladillo y puntada. Pass through a string in the hem. Pase a través de una cadena en el dobladillo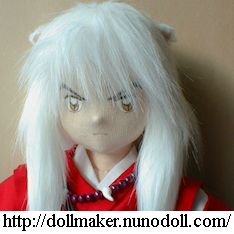 El procedimiento de ropa para Inu Yasha
Kimono
Poner en kimono. Tie the waist with a tape. Tie la cintura con una cinta. Tuck up the hem. Tuck hasta el dobladillo.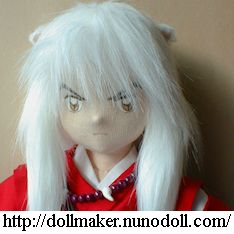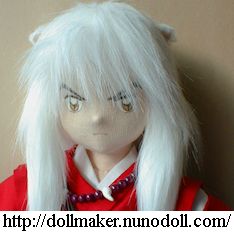 Chaqueta
Ponga en la chaqueta.
Put the string of the left collar inside and pull it from the left side. Ponga la cadena de la izquierda dentro de collar y tire de él desde el lado izquierdo.
Then tie the strings. Luego el empate cuerdas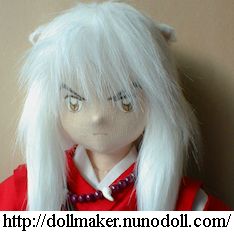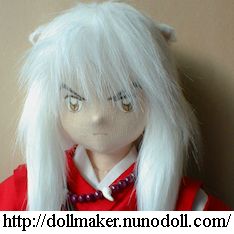 Pantalones
Poner en Hakama. Tie the rear waistband at the front. Tie la parte trasera la cintura en la parte delantera.
Wind the front waistband and tie it at the front. Viento la parte delantera la cintura y corbata que en la parte delantera.
Tie the string at the ankle. Ate la cuerda en el tobillo. Cut the excess of the string. Cortar el exceso de la cadena.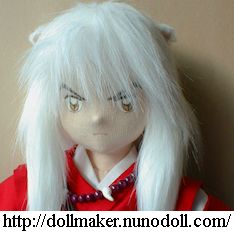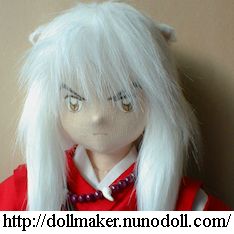 Accesorios
Rosario está hecho de madera, bolas de color púrpura y blanco magatama.
Katana is paper. Katana es el papel.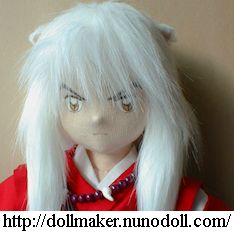 Katana
* Cut out katana of silvery paper. Recorte katana de papel plateado.
The blade is curved. La hoja es curva.
* Cut a small oval. Cortar una pequeña Oval. Make a gap in the center. Haga un hueco en el centro. It's a guard. Se trata de un guardia.
* Put some glue on the hilt and wind it with a cord. Ponga un poco de pegamento en la empuñadura y el viento con un cordón.
* Pass the blade through the guard. Pase la hoja a través de la guardia.
* Cut out 2 pieces of sheath. Cortar 2 piezas de la vaina.
* Put the blade between the sheath. Ponga la hoja entre la vaina. Wrap the sheath with paper tape. Envuelva la vaina con cinta de papel.
* Insert the katana between hakama and the band. Inserte la katana entre Hakama y la banda.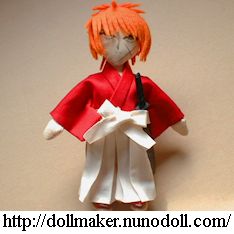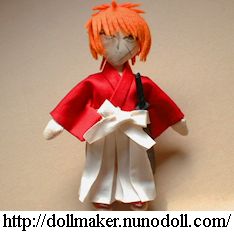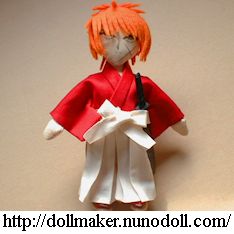 Espero que les haya servido , aqui les dejo la web de donde lo saque
http://dollmaker.nunodoll.com/anime/inu_yasha.html
esta en ingles
_________________
Itachi





Cantidad de envíos

: 825


Edad

: 27


Fecha de inscripción :

05/05/2008



esta padre naruto gracias
Konan





Cantidad de envíos

: 1193


Edad

: 23


Localización

: intentando conquistar a tenten


Fecha de inscripción :

08/05/2008




---
Permisos de este foro:
No puedes
responder a temas en este foro.